Stellenbosch dentist – ceramic dental laboratory
Our onsite ceramic laboratory combines state of the art technology and best practice in dentistry. In keeping with the move toward metal-free dentistry, we offer both ceramic (or porcelain) reconstructions and use Zirconium for super structures of crowns and bridges.
Ceramic dental restorations
CEREC is a highly versatile and flexible technology that may be used for dental restorations including the production of aesthetically pleasing ceramic crowns, inlays and veneers!
Our restorative dentistry process typically involves 2 visits: the first to prepare the tooth, make an impression and fit a temporary crown and a second visit to have the temporary crown removed and the permanent restoration fitted.
Having an onsite lab has many benefits for our patients in that our crowns, inlays and veneers are manufactured onsite and the two appointments will typically be only a few days apart for added convenience.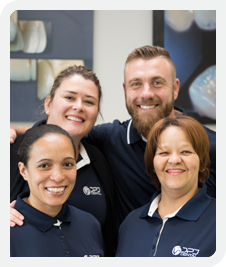 Zirconium crowns and bridges
In traditional dentistry, dental crowns were made from metal and given a ceramic coating. With time, the porcelain would erode, particularly at the base, exposing a dark metal line just above the gum line. Modern day technology allows us to create crowns from pressed porcelain, which are just as strong as metal crowns, but more aesthetically pleasing.
Pressed porcelain, Zirconium or ceramic are not only very natural in appearance, but difficult to distinguish from one's own natural teeth, making them very popular. In addition, Zirconium super-structures are light-weight, durable and aesthetically pleasing.
Our onsite ceramic laboratory means that we can provide a better, most efficient and cost-effective service to our valued patients.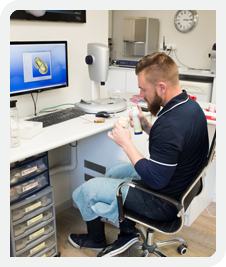 To find out more about ceramic dental restorations, contact Eikestad Dentists on 021 887 6938 / 6984 today.